Click. Click. Click. Type. Type. Type. It's a typical work day until my phone starts buzzing and a big smile comes across my face. Because that's what you do when Ryan Henry Ward calls you. Always smile. And feel warm and fuzzy. We don't normally talk on the phone so even though I'm in the middle of work, I pick up.
(…pass typical hi-how-are-yous….)
"Hey are you doing anything Memorial Day Weekend?" – Ryan 
"You know, for once, I don't know. There's been some discussion of camping but nothing solid…." – Me
"Well hey, how do you feel about going to Sasquatch (music festival) with me to document my art? I'll give you an all-access-backstage pass…" – Ryan (He might have said some other things, but everything seemed to fade away as soon as he said Sasquatch and backstage passes)
"Uh. SERIOUSLY!? YES!" – Me (stifling squeals at my desk)
"Yeah I mean, if you're not busy, I'd really love to have you." – Ryan 
"Are you KIDDING me?! Yes I'll go!" – Me
"Well we're leaving next Wednesday, if there is anyway you can head out with us, great, if not I'll see you there." – Ryan 
"OH, believe me, I'll make it work." – Me (Except in reality I had NO IDEA if my work would let me take a few days off with such short notice…luckily for me… CLICK ME)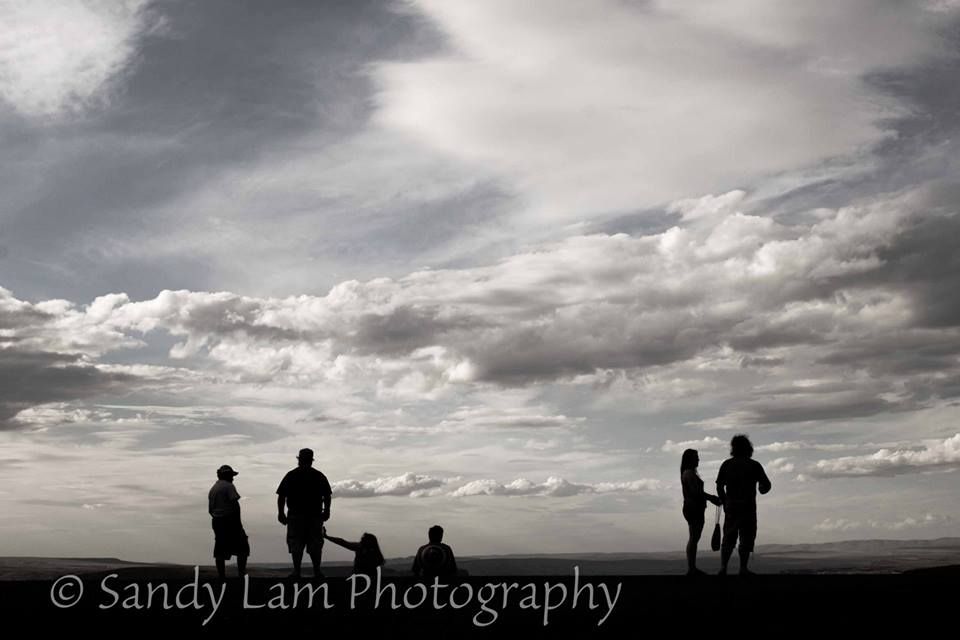 And BOOM, just over a week later, I found myself squeezed in the middle of a U-Haul with Ryan and Jan on my way to the Gorge for the very first time, to attend one of the PNW's most popular music festivals, WITH BACKSTAGE PASSES! EEE!! I knew the trip was going to be amazing, but it ended up surpassing any of my hopes and expectations.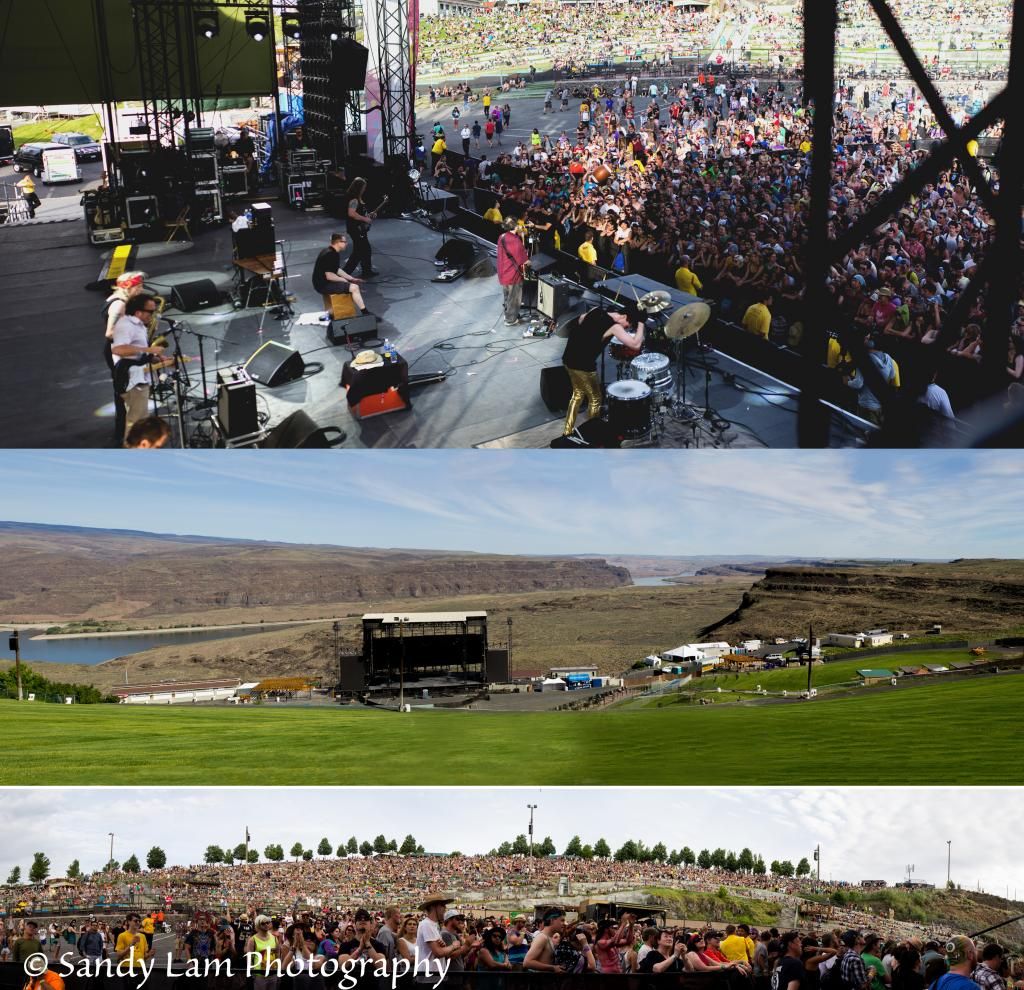 Sasquatch! Music Festival is an annual multi-day music festival that was founded in 2002. It takes place at the Gorge Amphitheater in Eastern Washington and from what I heard, is one of the most beautiful outdoor venues next to Red Rock Amphitheater in Colorado. Since it's inception, it has been a raging PNW favorite. All I ever heard growing up was how amazing The Gorge was. Many view Sasquatch! as the "kickoff" to summer music festivals, since it has typically been held Memorial Day Weekend (everyone's kick off to summer season weekend). Tickets typically sell out within hours the box office opening, and I've never once considered going because A) I suck being "on top of it" when it comes to grabbing hot tickets and B) It can be wildly expensive (Day passes alone cost over $100 while 3-4 day passes cost $350 NOT counting camping, AND that's at face value (probably without some dumb electronic fee too)! Some special passes are sold up to $10,000…redonkulous right? I hope you get to have dinner with the headliners for that price).
After having the opportunity to bring a few art pieces to showcase at Sasquatch in 2013, Ryan was asked to return in 2014, but this time as the Visual Arts Curator for the entire festival. That's some awesomely big shoes to fill, but Ryan is just the man for that job! So, not only did Ryan create an army of 50 eight-foot tall Sasquatch characters and help design festival merch, he made it his mission to live-paint a 50-foot mural DURING the festival. Ryan really wanted to showcase art other than himself and wanted to give people a chance to see and experience different types of art, so he brought along 12 of his local artist friends to create art live at different areas all over the festival. This was the fun part for me.
I was able to meet so many new people (some old friends), and be with them as they get to experience and contribute to something they've been going to for years (some had been coming to the Gorge since their early teenage years!). It's ALMOST like jumping into that tour bus to photograph the behind-the-scenes for a band. But Instead of a bus, we're in a U-haul, and I'm with some of the quirkiest, talented visual artists I've ever met.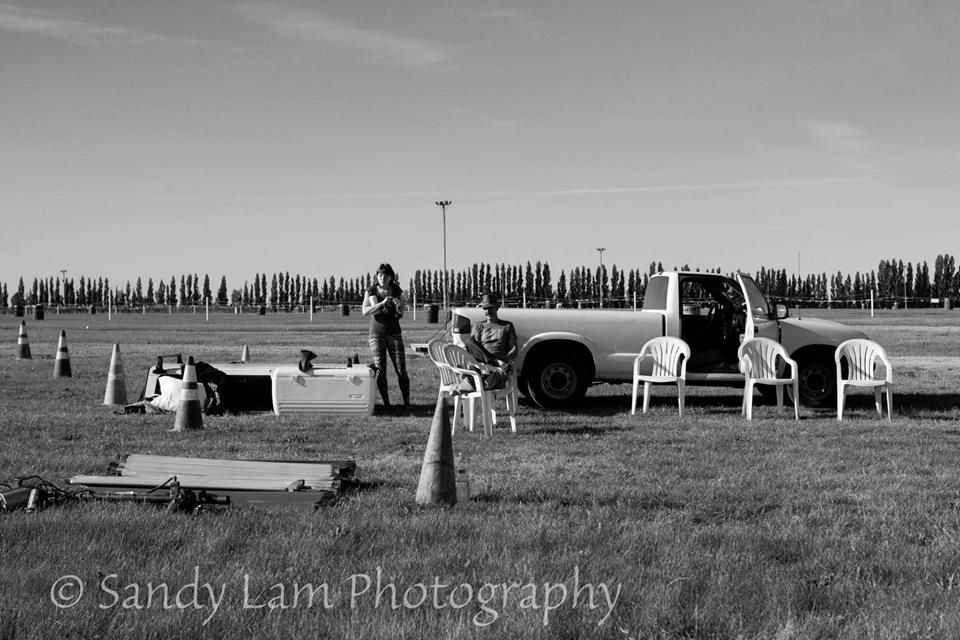 We arrived late two days before the festival opened so Ryan could get everything set up. Among installing the 50 Sasquatch characters around the venue, Ryan's very handy friends from Barefoot Builders (lead by treehouse building expert David, and supported by Bemya and Murph) actually built the 50 foot mural in one day.
One of the most unique aspects of Sasquatch is being able to be there for the set-up. The Gorge is really beautiful, but especially without people screaming, the smell of grease/pot, and trash EVERYWHERE (more on that later).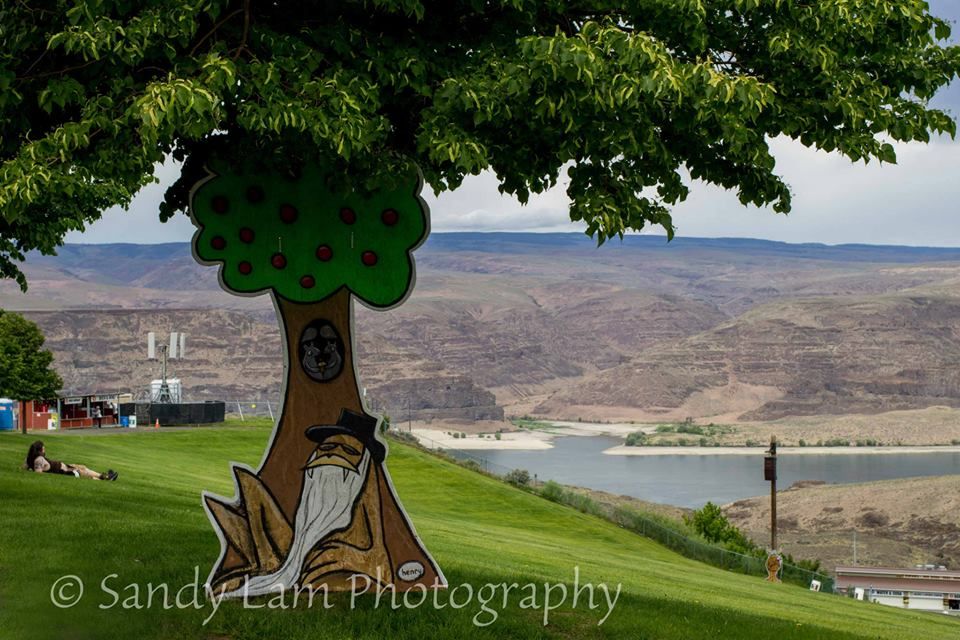 I had so much fun riding around in trucks taking pictures of everyone working and getting ready.
I think one of the most challenging art pieces was this pyramid, which was built on site by Jan and his friends. Not all of the pieces fit into the U-haul nicely so he had to hack it apart and piece it back together! I imagine it to be something similar with trying to put together an all white rubics pyramid or something. But they did it!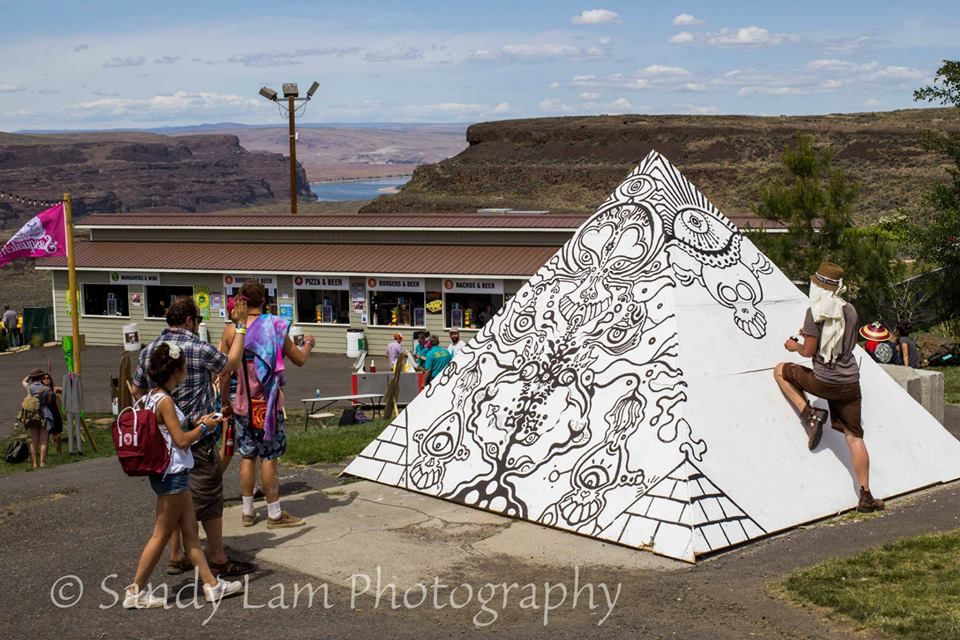 One of my ideas was to create a time lapse of the mural from start to finish, but I only had one camera (no tripod) and one of me, so I had to balance taking still photos of the mural in progress and everything else that was happening around the festival. By the end of the third day, I had worn myself a nice little trail from the point I took every photo (approximately), to the area in front of the mural where I would hang out with everyone. The end result was pretty fun:
There was something incredibly surreal as you're watching the sun go down behind the different stages as the lights and sound crew test everything. The best part for me was walking around the venue at night while the stages are being set up. Fog machines, lights, speakers – they're all being checked and as we drove around it was like the best pre-funk festival experience just for us! Laying in the grass in front of the mainstage, staring up at the starry night, listening to who knows what popular indie rock music is coming out of those speakers. I thought the highlight of the weekend was going to be how I got to be on the mainstage during soundcheck…but little did I know that two nights later I would be dancing on it..(more on that later).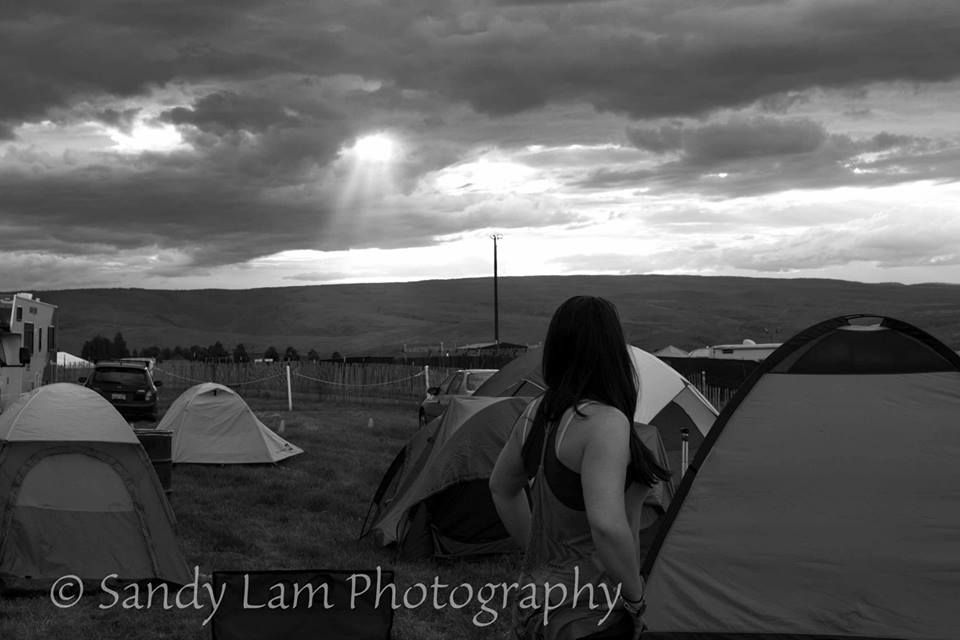 I thought excitement would keep me up the first night, but being in the sun is exhausting. I promptly passed out sometime after 1 AM. However, my sweet slumber was interrupted by the jarring noise of "rap and crap" (I told myself) BLASTING. I mean seriously blasting. I thought everyone at the campsite was still up partying until I heard an echoing voice saying "Check check. One one. Two Two. Check Check." I thought, "SERIOUSLY? Soundcheck? What time is it? Oh the sun isn't even up yet. WTF." And promptly went back to sleep (I've been blessed with the ability to sleep through most things – expect snoring). Later that morning I did confirm that it was indeed Outkast (Friday night's headliner), doing soundcheck at some ungodly hour of the morning. "Oh…well if it was Outkast…I guess that was ok…well actually no. Not really." I mean I know they're trying to do it before everyone arrives for the festival, but if I was a headliner, I certainly would not be happy about that kind of sound check time.
Experiencing Sasquatch! for the first time at 27-years-old was…awesome in a way that made me realize I am an old fart. How these kids party the way they do…I have no idea…I had a great time being sober and experiencing everything. Some kids though…actually, side story…so John created this TInglertown display (above right), and someone kept coming by when the installation was unsupervised and smashing his artwork. Heartbreaking to say the least, but luckily, John finally caught one of the guys red handed (who obviously wasn't sober in the least). He firmly grabbed him by the collar demanding the kid pay for the pieces he destroyed, and when the kid stammered with nothing to say, John dragged him over to security, where the kid was promptly kicked out of the festival. *CHEERS!* It made me so sad and mad to see such hard work being destroyed by wreckless and thoughtless festival-goers. Is it too much to ask that people act like decent human beings and be respectful of the art? We're bored pre-teens looking for something to do (Oh wait…some of you are) Luckily that was the only major downer during the festival for the artists. It seemed to me everyone was able to enjoy themselves.
My favorite part of the whole experience was watching Ryan work. It's incredibly awe inspirirng to watch one person handpaint a 50 ft mural in two days with just a paintbrush, some spray paint, and a ladder. Ryan even has planters fasciitis, which is a common foot injury from spending too much time standing on ladder rails without proper footwear. Nothing some brand new mountain boots, chain smoking, and focusing on work to help get your mind off of that!
I loved watching Ryan's playful whimsical spirit come through his art, and how his eyes, smiles, and hugs warmed the heart of everyone he interacted with.
This lovely woman in the red (above) was incredibly delightful. She saw/met Ryan 5 or so years ago and got one of his stickers. She always told him that she would make him something in return, and make something she did. She quilted/crafted the shirt Ryan is holding and it's based off of the sticker that Ryan gave to her years ago. Ryan was so touched by her thoughtfulness and efforts, I was beaming just being witness to that kind of humble gratitude.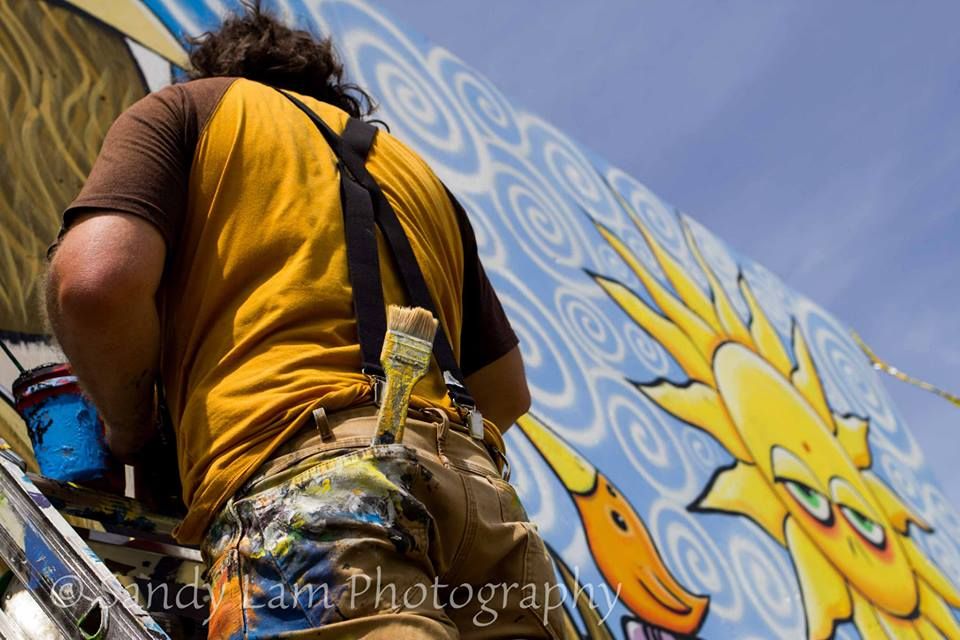 Watching Ryan power through his work was a force to be reckon with alone. Despite the chaos of the surrounding festival and taking breaks to talk to "adoring fans" (as I like to call them), Ryan still created one heck of a piece of art. Watching him put the finishing last touches to the mural (I don't think I've ever sprinted so fast between the time lapse photo and getting up close to capture his signature), made my heart swell. I was so proud of him, I can't even begin to imagine what it felt like for him.
Once Ryan completed his mural, I was finally able to relax and see some shows! I was ready to plant myself on the mainstage. Before that I snuck in peaks at a few mainstage artists including Mary Lambert (where I got to practice my paparazzi skills).
Hobosexual was right next door at the Narwal stage so that was easy enough in between still shots.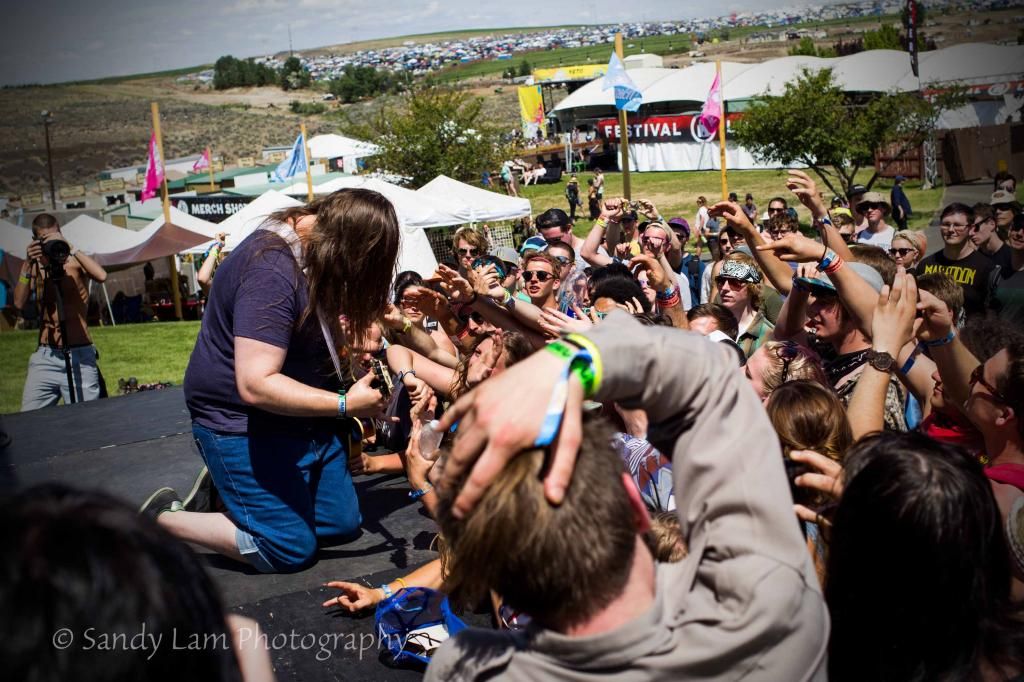 Backstage view!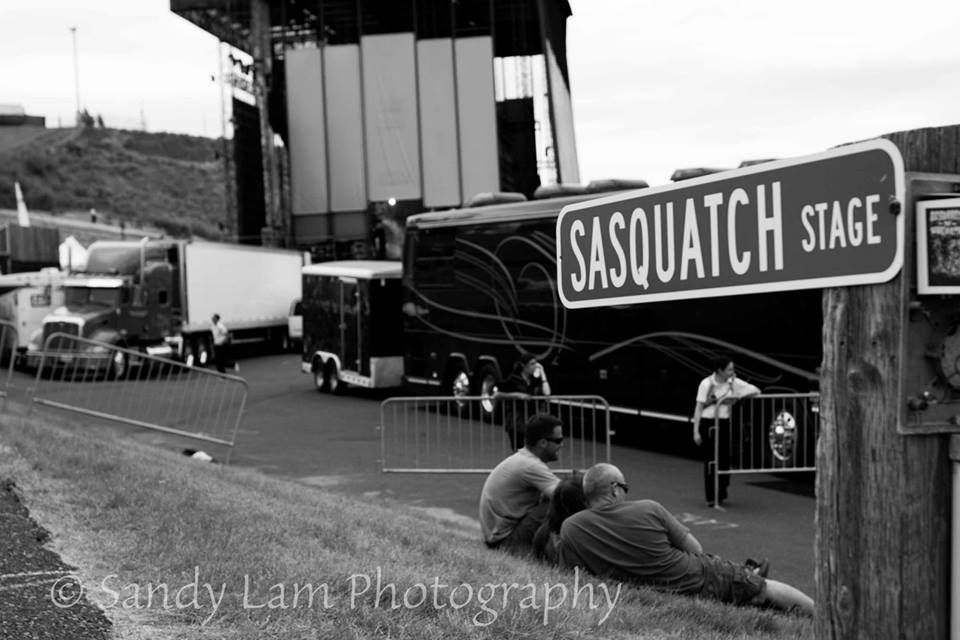 Luckily Ryan finished just in time so I could plant myself on the mainstage in time for:
The Violent Femmes!!
They were awesome! Man those guys can rock it! They were my favorite performance all weekend. As you get tell from the photo of Andy above, all-access passes meant we got into the media pit! Whoohoo!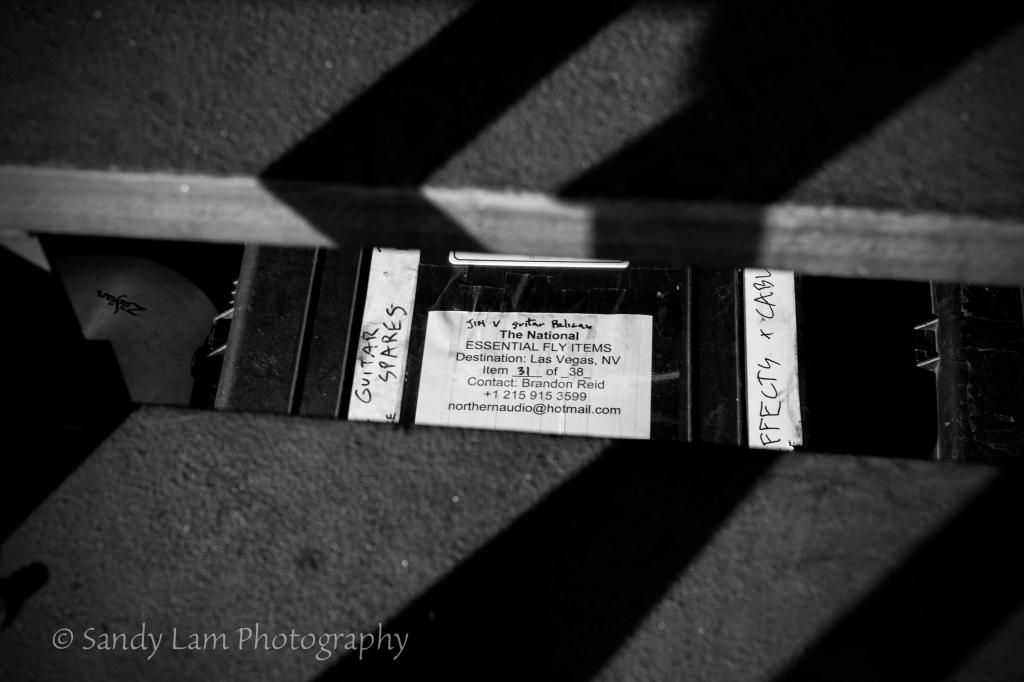 NEKO CASE!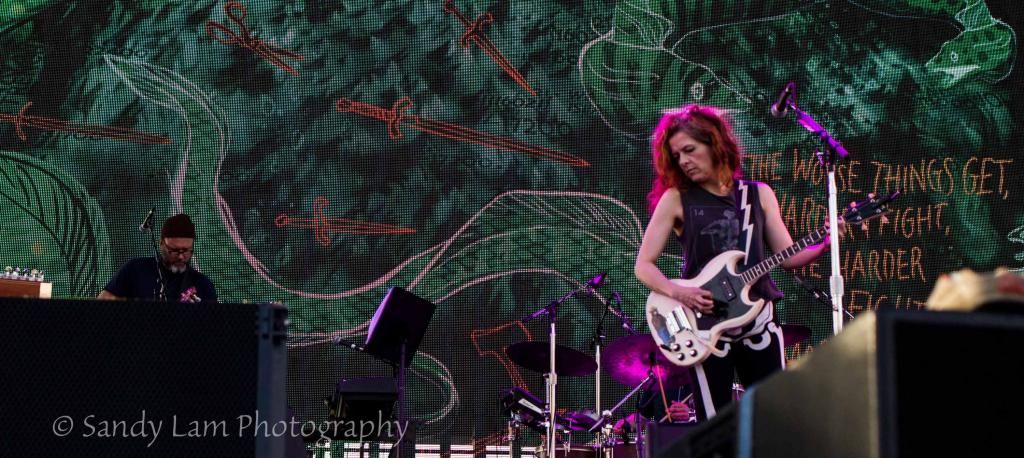 M.I.A!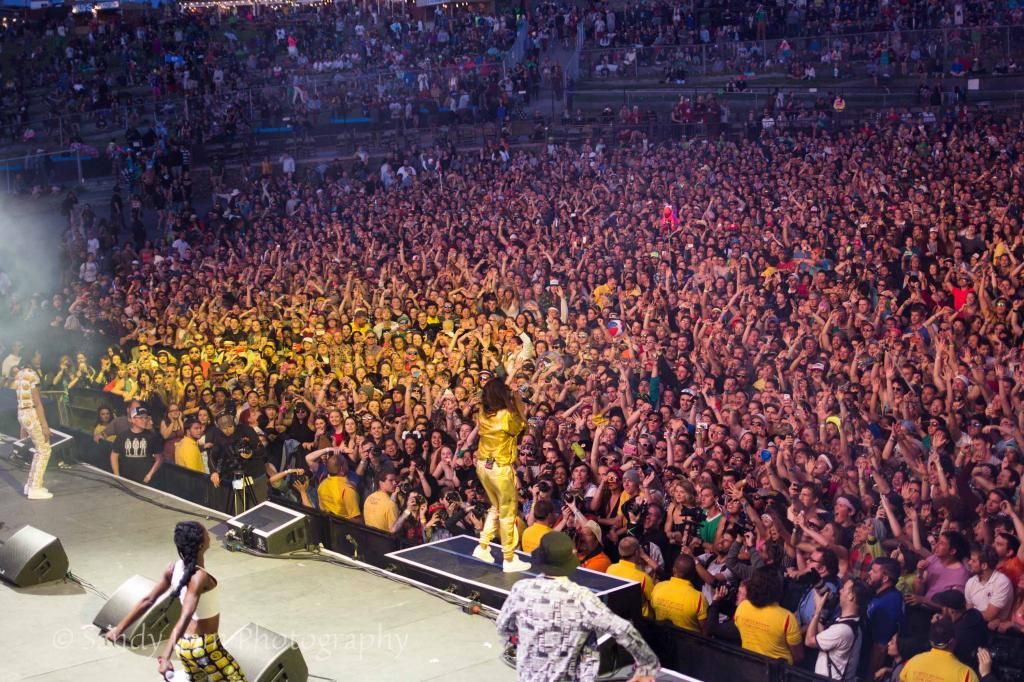 Now, I am definitely not the biggest M.I.A. fan but I can groove to her when I'm out with some friends, but HOLY COW is her performance incredible. Her and all of her glittery Sri Lanka glory. After seeing her perform I am a HUGE fan of her. She is crazy fun and knows how to work a crowd. And did I mention I got to dance on stage with her? This is where the story about dancing in front of 20,000 people comes in.
So this is how the story goes. Since I wasn't consistently spending much time backstage at shows most of the weekend, I wasn't sure how my all access pass worked. Because for Violent Femmes, we were able to kick it in the media pit, even after the media had to leave (they're allowed to stay for the first 2 or 3 songs I think). When Neko Case came on, I was able to come in and out of the media pit as I pleased. The area to stand backstage backstage was a little bit more confusing. We were not allowed to be in the back on the left of the stage for Violent Femmes, but we were for Neko Case. So..I wasn't sure where I was allowed for M.I.A. so I thought I would stake out a spot on the scaffolding and see. Well after the first 40 seconds of her entering the stage, I knew I did NOT want to be on the scaffolding to the right of the stage. I wanted to be on the ground to the left of the stage! They had opened it for a handful of people to enjoy the show from the side, so I sprinted downstairs to join the fun.
Naturally, the time you're pumped up about something, SOMEONE gets in your way. New security lady would not let me into the media pit because I didn't have a "media pass". I argued I had been coming in an out all day. She basically told me to eff off and even though I just wanted to use the media pit to cross over and get backstage, she told me I had to go around. I looked at her like she was a crazy person and was like "SERIOUSLY? You want me to walk AROUND 20,000 people right now."
She was firm in her stance so I pouted for about half a song, took some photos and then shoved my way into a clear walkway that went around the mainfloor and made it to the other backstage door. Security let me in no problem there, and as I went up to join Ryan at the side of the stage I saw a bunch of people running out onto the stage. I asked Ryan "Why is everyone running on stage? Can we go?" And he said "She said ladies only! Go!" Without another word I threw down my purse and ran out on stage to join the dance party.
In slow motion as I ran into the stage this is how my thought process went:
"Yeah DANCE PARTY! Heck yeah!…OH SHIT…that's a lot of people…What am I doing? WTF am I talking about? I'm on stage with MIA and I'm going to dance like it's my last day on earth!!" 
And dance my pants off I did. I have never dance so hard in my life. I'm not even sure if I could dance harder if Ellen Degeneres was dancing next to me. It was exhilarating.
I was on such an adrenaline rush after that, and for the rest of the night, I didn't even stay to watch the headliners, The National (who I actually did want to see). I ran around all night yelling and squealing and telling everyone I knew what had happened and I was pretty sure it was the best time of my life.
The rest of the weekend was quiet. We spent the last day of the festival catching a few shows, eating lots of food, and laying the grass. Seeing Queens of the Stone Age from back stage was AWESOME! I did have the unpleasant experience of being dragged to a Die Antwoord show. I wish someone had mentally prepared me for that. I felt like a piece of my soul/innocence was sucked out of me and I'll never be able to get it back. I was certain I'd have nightmares after that, and would only say if you are not familiar with them, don't look them up unless you like LOVE scary movies and being creeped out. Trust me, shit gets WEIRD. Not my cup of tea, but I'm glad someone appreciates them.
While the entire weekend was incredible, there was one moment that almost ruined it all for me. Every morning I was AMAZED how clean the festival grounds were. Humans are seriously dirty creatures. Especially young adults, who are drunk high, free, and wreckless. I couldn't believe how much garbage would be left on the ground each day and how much of a mess humans can make. Each night reminded me of that scene in Pinocchio where the boys run off to Treasure Island and there are broken chairs, overturned tables, piles of things burning, and total chaos everywhere. That's what it felt like. And it felt disgusting.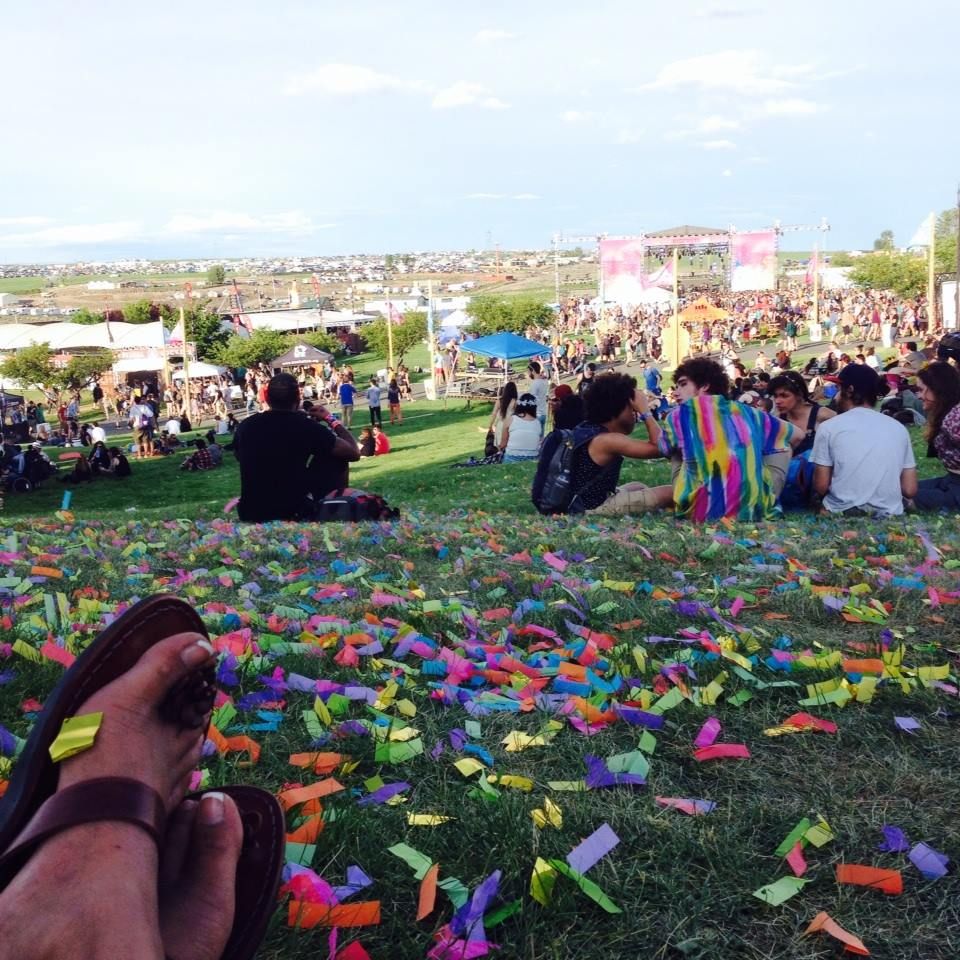 The first time the confetti came down, I kept thinking "Oh god how are they going to clean this?" (I know…I am DEFINITELY getting old). But the next day it was good as new. Each day of the festival, opening hours were like the gates opening for the first time that weekend. The porto potties were clean, the grass was green, everything was fresh and new. Andy and I even discussed ways we thought they cleaned it. I thought maybe a leaf blower the compiled it all or some kind of vaccum. The morning after the festival was over, I discovered the truth.
I didn't have a zoom lens otherwise I would have gotten more photos, but if you look closely and this photo above, you can see groups of migrant workers picking up the confetti BY HAND. My heart just broke into pieces as we drove by to break down the art installations. I just couldn't believe it. 20,000 people come in each day, trash the place and these people (probably twice the age of most festival goers and $5 says they weren't getting much above minimum wage) were up all night picking up after them. It disgusted me. I felt embarrassed. It made me a little angry too. Seeing how wasteful people could be and seeing the aftermath of what the wastefulness brings. Who knows, maybe those workers are paid well, but in any case, it can't possibly be efficient to pick everything up by hand. How terrible. If anyone goes to any festivals in the future and is reading, all I ask of you is to PLEASE be mindful at your next visit. I know there isn't a way to stop people from attending these types of events, and not everyone will pick up after themselves, but really, you should think about this scenario. Just think about it at least.
Even with that low note, it was a great weekend. I don't want to discount how incredible the whole experience was. I am so thankful for so many things after that weekend.
Thank you Ryan for sharing such an incredible experience with me. I will never forget it!
I even got my very own Sandysquatch to take home! BEST SOUVENIR EVER!!!
If you still want more Henry action at Sasquatch, check out the mini documentary Taylor made: